Сustom Wordpress Theme Development
In Flexi IT, we provide our clients with professional custom WordPress theme development. That includes customizing current WordPress themes or creating the new theme depending on your business or marketing needs.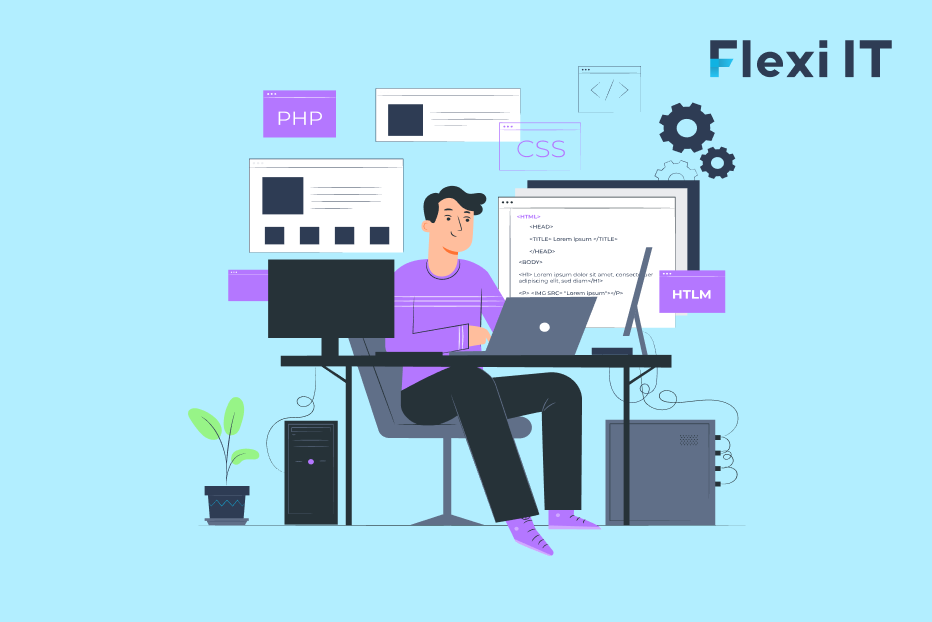 Our team offers a WordPress WordPress theme installation service, along with a WordPress theme design customization service. Also, we can customize your WordPress theme code. By choosing Flexi IT, you will get a high-quality theme development service since our qualified WordPress developers and designers always work passionately and make sure that all customer requirements are satisfied.
WordPress theme development services we provide
Here you can find a list of the main WordPress theme development services offered by Flexi IT:
Theme setup and configuration. Flexi IT is responsible for installing WordPress, the required theme, crucial plugins, demo content, and other critical settings on the client's server.
WordPress theme customization. No matter if your site is built on HTML, CSS, or even JavaScript. Our qualified WordPress theme development team will make you forget about the hassles of manual coding since we provide your site with the most efficient features and tools.
Theme design and code customization. We provide customized WordPress theme development by changing the theme's look, feel, or functionalities, which allows suiting your unique brand.
AMP integration. We can create a lightweight version of the current website pages for loading them immediately on mobile devices.
eCommerce integration and customization. In Flexi IT, we can provide your WordPress theme with additional eCommerce functionality or offer advanced customizations to your existing WordPress store.
Responsive layout conversion. Our WordPress theme development team can transform your non-responsive themes into a modern WordPress website that allows for full responsiveness.
Theme speed optimization. We can use cashing, minimize HTTP requirements, and compress CSS and JS files for optimizing your WordPress theme's speed.
Our custom WordPress theme design services
In Flexi IT, we offer the following custom WordPress theme design services:
Custom logo design. We offer an up-to-date custom logo service. Our professional designers will create an outstanding logo for your WordPress site and business within a few days. Here are the types of a logo we design: text, symbol, and combined.
Color scheme customization. Of course, we will do it for you, but there is a note - we do not include clipart customization in the price. However, it is possible to calculate the cost of clipart color scheme customization separately. You can send a request to partners@flexi.ink for receiving the most accurate calculation.
WordPress theme design to HTML5. Such a service predicts the coding of the one-page site template in HTML5 depending on the design of your current WordPress theme. We guarantee full responsiveness, a clear code with no plugin markup and classes. At the same time, it is not a simple WordPress conversion. The files can include a PHP file, a CSS file, an HTML file.
Replacing logo and company name. Do not hesitate to change your custom theme! We are always ready to help you make the first steps towards your website customization and implementation of the renewed logo or slogan.
The features of our WordPress theme customization service
Custom WordPress theme development services by Flexi IT mean the perfect combination of functions and design. When developing a custom WordPress theme or integrating template files for you to get an opportunity to create successful WP content, we ensure the seamless integration of all necessary requisites in your WordPress site. Our experienced team of designers and developers will apply the best possible tools and technologies for your WordPress theme development.
The innovations offered by Flexi IT make us the leading WordPress theme development company. We always focus on following industry guidelines and php wp coding standards during the theme development process. Besides, we prefer breaking the monotony related to using a similar page template frequently and creating a new theme from scratch for each of our clients. Our tech-based approach allows developing an appropriate WordPress theme that renders significant features, including usability and cross-browser compatibility.
Stages of our custom WordPress theme development process
Send requirements. Provide us with a full brief on theme development required, theme name, critical design files, and other details regarding your WordPress theme.
Review and interaction. After that, we review your WordPress theme development requirements and send you a relevant quote.
Customization and testing. Then, our WordPress developers and designers customize your WordPress theme depending on previous requirements.
Delivery. Lastly, we deliver your WordPress theme development project that involves all desired features and functions.
Why choose Flexi IT as a WordPress theme development company?
Of course, you can use specific instructions and read more about the theme's functionality for customizing your WordPress theme. In addition, you can use style CSS or JavaScript. But the most efficient way is to hire a WordPress theme customization service for your WordPress theme development and ensure the desired results.
Here we define several reasons why choosing Flexi IT is the best possible option for your custom WordPress theme development:
Theme control panel. Our team believes that all businesses require unique solutions. To bring such solutions to them, we provide a theme control panel that helps control everything.
SEO compatible design. In Flexi IT, we provide the skeleton, along with the dynamic portions like metadata of different posts and pages, with the required HTML and SEO semantic codes.
Constant technical support. Our professionals continuously focus on their operations. Thus, we can ensure that all our clients get responses regarding their projects quickly.
On-time service. In Flexi IT, our project managers apply efficient management tools for keeping track of all steps in the custom WordPress development process. We always try to deliver the final project before the settled deadline.
Flexible solutions. We offer multiple engagement and service models for selecting. Considering finalized requirements, we provide the best budget/time solutions.
Frequently Asked Questions
A wp footer serves as your WordPress site's bottom part appearing after the relevant content area. Typically, it appears on all site pages. Since this part of your WordPress site takes place far down below, many beginners often ignore it.
The href php attribute provides the specification of the page's URL the relevant link goes to.
There is no need to use php tags in such files if you only have html. For including header and footer in php, you should use the include_once() function in php. Then, you need to build a header part in the name of header.php and build the footer part by the footer.
You need to follow the path: wp-content > themes. After opening your theme folder, you will see the index.php file.
Your path must be the following: wp-content > themes > YOUR THEME NAME. Then, you should try to find a folder where the css files are located. Traditionally, they can be named CSS stylesheets or styles.
Your website's title, along with the tagline, is considered the introduction to your content. In multiple WordPress themes, the particular elements appear at the top of all pages. Thus, the title serves as the name of your website, while the tagline means a short phrase below.
You can use the wp_head function for calling all functions that are hooked to the wp_head action. Thus, different actions will be hooked to the particular action. They can reside in WordPress core, in various plugins you use, or in the theme's functions.php file.
This tag is typically used for displaying permalinks for all posts when these posts are displayed.
Testimonials
Creative Director
England
Review was published on:
I feel blessed to have discovered Flexi! I was looking for developers who take pride in getting things done, not trying to explain why some of my design ideas might not work. And I found them! I hired Flexi to develop a custom WordPress site that I designed. The final product looked and worked exactly the way I anticipated, and it was delivered on time. Vlad has ...Read more
CEO
Australia
Review was published on:
I've been working with Flexi on my project for a long time. They are always on time. Very loyal service. Hope we'll continue to collaborate for years to come.
Contact us
You may also read
Blog
Try us for 14 days
Want to start a 2-week free trial period with us? Leave your email below and we'll revert to you shortly with more details